576 HIGH HILL ROAD, MERIDEN CT
Arrive between 4 and 6 to enjoy all 8 magical stations!
Children must be accompanied by an adult at all times!
1. Fairy Godmother's Tent
EVENT ADMISSION: $10 per car.
Includes 1 autograph book.
Additional autograph books can be purchased for $10 each.
Glow sticks and light up wands will also be available to purchase. 
Visit the Fairy Godmother's tent to get your first autograph and get a map for your magical journey around Mountain Mist Day Camp!
Children are encouraged to dress in costume! 
All children must be 

accompanied

 by an adult. No drop offs. 
Meet Ariel, Ursula, and Uma
Location: Pool Pavilion
Carnival Game: Gone Fishing! How many fish can you catch?
Win a PRIZE BAG!
3. North Pole's Got Talent Karaoke
Location: Flag Pole
Meet and sing with characters from MYT's North Pole's Got Talent
4. Mal's Magnificent Pumpkins
Meet Maleficent, Mal, and Princess Aurora 
Location: Polly's Place
Activity: Decorate a pumpkin (while supplies last).
5. S'Mores with Snow White
Meet Evie, Show White, Grimhilde, Doug
Location: Cabins / Specialty Camp Unit
Activity: Toast a marshmallow and enjoy a delicious S'Mores!
6 & 7. Skip down the Yellow Brick Road
Meet Dorothy, Scare Crow, Tin Man, the Lion, and Wicked Witch
Location: Trail and Campsite in the Woods
Activity: Bean Bag Toss (fill your bucket with bean bags to melt the wicked witch)!
8. Market Place of Agrabah
Meet Jay, Jafar, and Jasmine
Location: Upper Pavilion 
Activity: Get your Fortune told and have your face painted!
Meet Carlos and Cruella De Vil
Location: Lower Pavilion
Activity: Make your own slime/ooze.

Location: Lower Pavilion
Purchase a hotdog, hamburger, chips, and a drink from the YMCA's Seals Swim Team.
Ooze, Pumpkins, S'Mores, Face Painting, and Carnival Games are included with your admission fee. Dinner at the Food Court is not included, cash only.
10. Belle's Ballroom Dance Party
Meet Ben, King Beast, and Belle and more characters!
Location: MYTent
Activity: Line Dances with Rhythmic Force Dance at the Y.
Performances by Rhythmic Force and Meriden Youth Theatre.
576 HIGH HILL ROAD, MERIDEN CT
$10 per car. Children must be accompanied by adult at all times. No drop offs.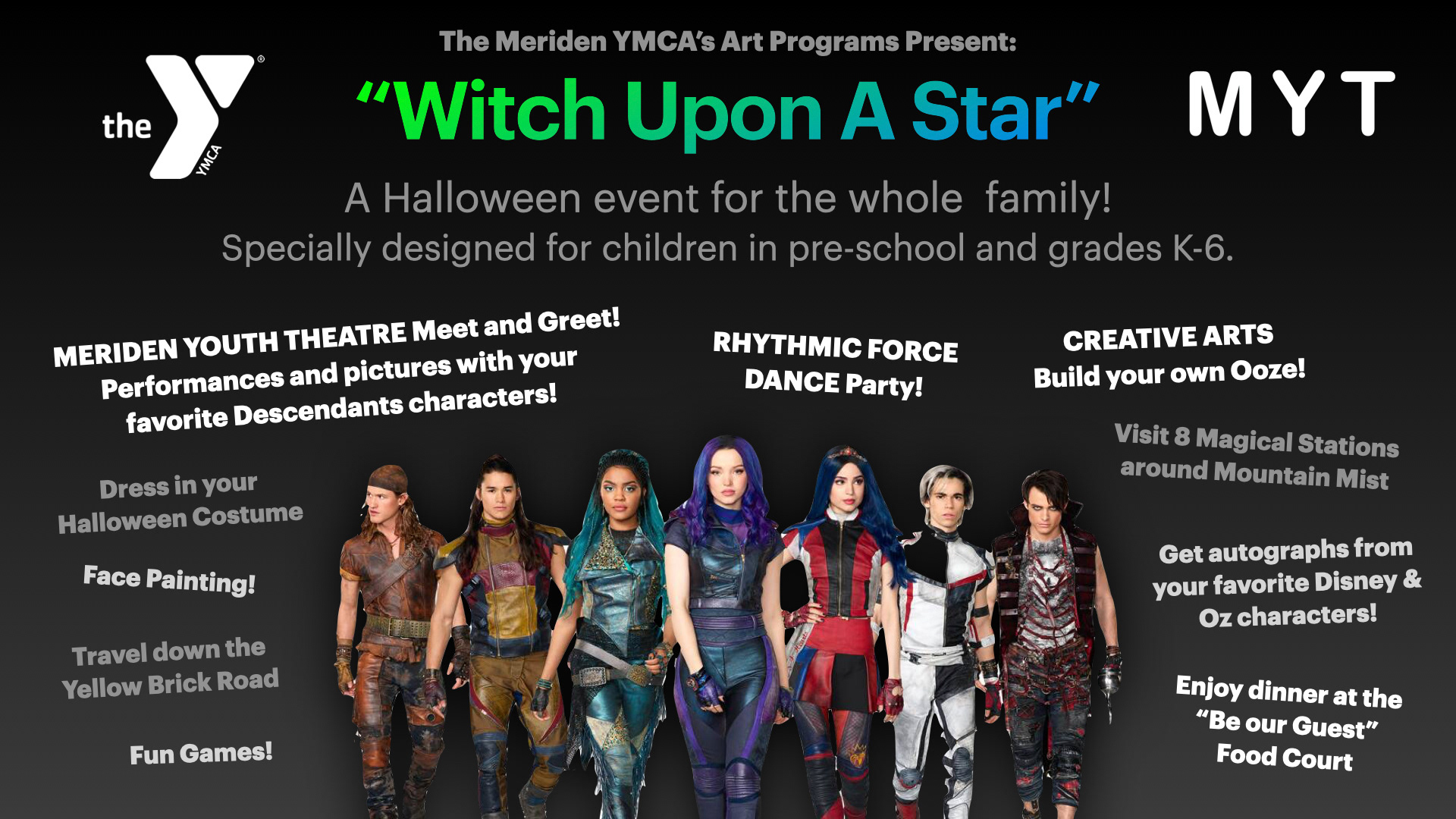 Collect 25+ character autographs in your book and get a FREE youth ticket to one of MYT's Fall productions: