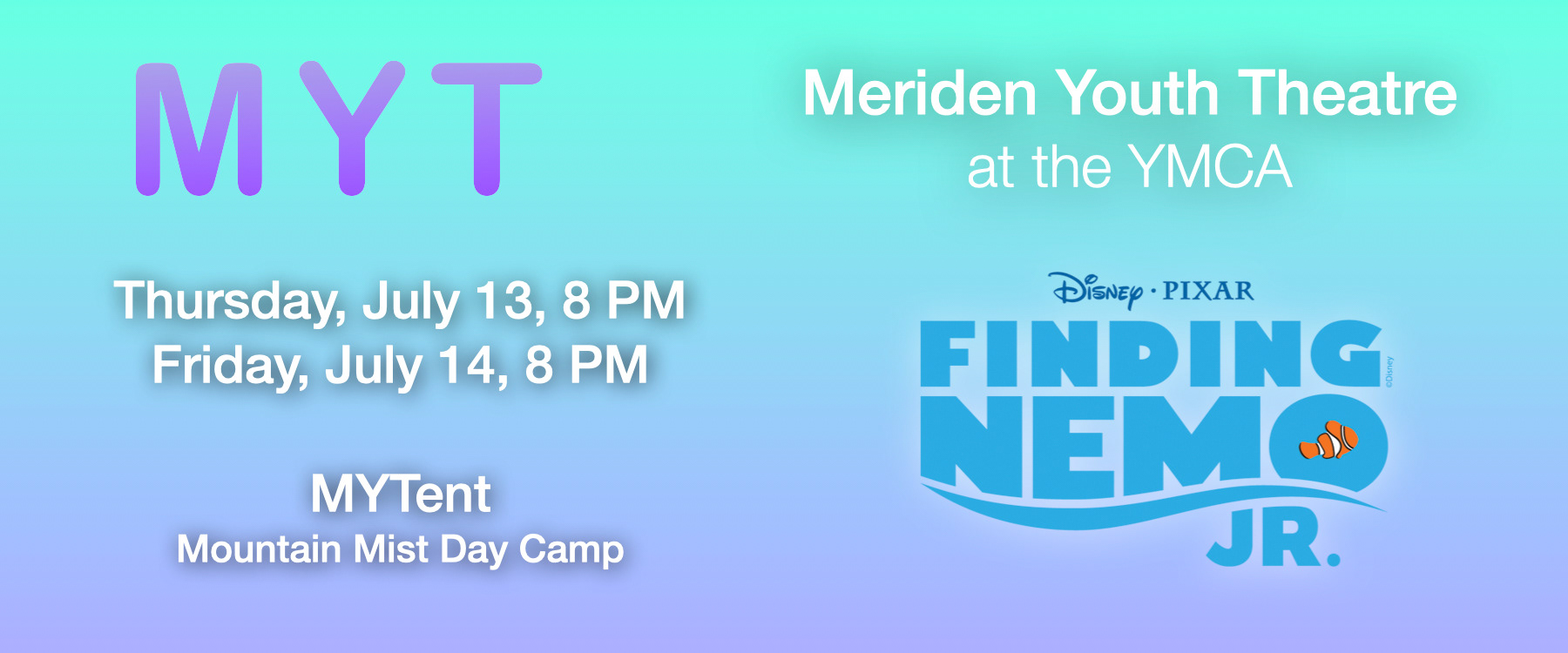 Finding Nemo JR
 Junior Company
Register:
Today through June 26th
Auditions:
June 25th and 26th by appointment, held virtually on FaceTime
Rehearsals:
During camp days July 3-July 14th, 9AM-3PM (including Tuesday, July 4th)
Dress Rehearsal:
Wednesday, July 12th 6:30-9 PM
Performances:
Thursday, July 13 and Friday, July 14 at 8 PM
Session Fee:
Full Member $406 Program Member $457
In order to enjoy high quality theater, you must first have a dedicated and reliable tech crew. The tech crew is responsible for making sure every performer is seen, heard, and captured. While the cast rehearses for 3-4 months ahead of a production, the tech crew only has 4 days to rehearse during tech week.
MYTech Crew roles are student volunteer positions. Crew members are expected to attend 1-3 rehearsals ahead of dress rehearsal week to become familiar with the show and train for their crew role. Crew members must attend every dress rehearsal and performance for the production they are working. No exceptions.
There will be 2 tech crews in the fall: One for the Rising Star and Junior Company productions, and a second for the Teen Compnay production.
In order to be selected for tech crew, students must demonstrate to the staff through previous MYT expereince that they can remain focused and responsible. Students in grades 6 and up may apply. Successful participation in 5+ MYT musicals is encouraged inorder to demonstrate all 7 required characteristics listed below:
ORGANIZATION: Always comes to rehearsal prepared, keeps track of their script, and has pencil ready.
FOCUS: Remains focused and engaged without redirection or prompting from staff during the entire rehearsal (music, blocking, or choreography rehearsals).
RESPONSIBILITY: Always follows through on tasks assigned. Student has been assinged scene transitions on runsheets and carries them out sucessfully.
DEPENDABILITY: Always on time to rehearsals, demonstrates excellent attendance.
LEADERSHIP: Student recognizes what needs to be done and can take initiative or organize a group of people to accomplish the task.
SHOW OVER SOCIALIZATION: When rehearsal is over, they stay to help the staff clean up. After shows, they stay behind to clean and strike. They volunteer to set up the piano or speakers during rehearsals.
GROWTH MINDSET: They take direction and respond well to feedback. 
Students must demonstrate all the above characteristics to the MYT staff in order to be considered for the MYTech Crew. Beginners are usually assigned roles such as photographer, videographer, and spotlight operator. Crew members often work their way up to more challenging roles such as light and sound board operators over time. Advanced roles require a strong understanding of technical theater and training to operate the equipment. 
While we want to train as many students as possible, we also need our tech crews to be run by experienced people who can operate the equipment professionally. As a result, only a few new "techies" can be trained each year.
If you are interested in a position on the MYTech crew for Fall 2022, please write Joe (joblon@meridenymca.org) a letter that includes:
-A description of your past experience (either working on tech crew or helping out during rehearsals and productions)
-Examples of how you demonstrate the 7 required characteristics at MYT
Application letters are due by October 1st.